Doing your tasks without a thoroughly planned idea is not effective. Moreover, it can be overwhelming sometimes, and you can get lost in the process. One of the good ways to avoid this is mind mapping.
With mind maps, you can brainstorm your ideas and quickly structure your work. After that, the job will go smoothly and you will get things done much faster.
The easiest method to come up with a perfect mind map is by using mind mapping software. You can literally create a beautiful mind map in a few minutes.
There are too many mind mapping software out there. It can be either free or paid. And while picking up the paid one is easy, you just can Google it and choose the one you like the most, finding the best free mind mapping software can be very time-consuming because you need a mind mapping software for a specific task and not any free tool can be able to help with it.
Therefore, in this article, I have come up with a list of the best free mind mapping software.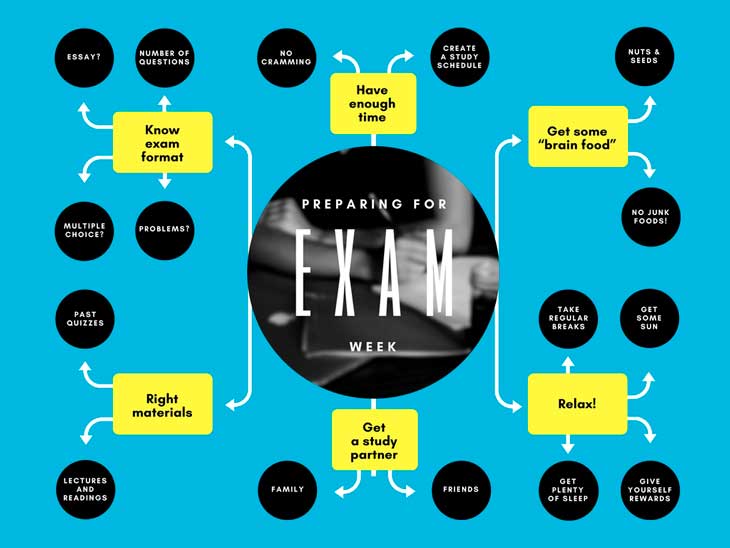 1. Canva
While being the best image editor on the web, Canva has one of the best free mind mapping software as well. Organizing thoughts and presenting an idea becomes easy with it.
Canva mind map maker is an intuitive, reliable and simple mind mapping web-based platform designed for anybody, whether you are a business, an institution or even an individual who wants to structure their side hustle idea.
Its forever free plan comes with a lot of useful features:
Powerful drag & drop editor
1 GB cloud storage
Over 8000 ready-to-use templates
Canva's free version also allows communicating with up to 10 people on one project. In case you need more, you will have to pay $12.95 per month for any additional team member.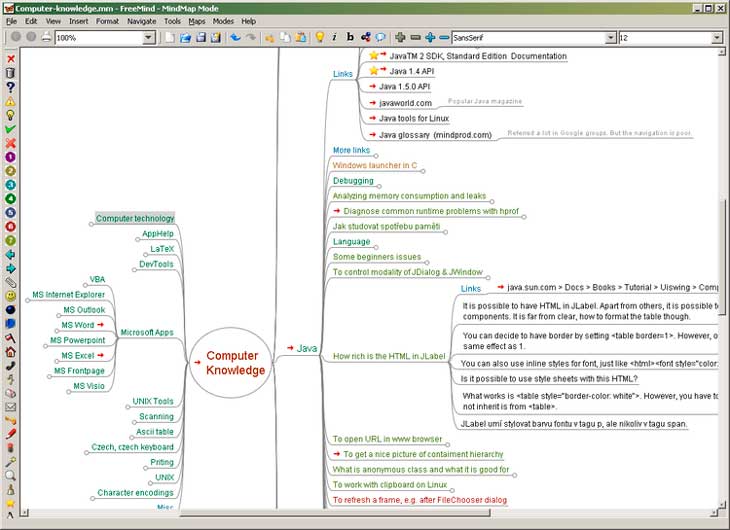 2. FreeMind
FreeMind is one of the most useful and the best free mind mapping software for macOS. It runs on Windows and Linux as well, but this market has enough good free alternatives.
There are thousands of ways you can use FreeMind as it has all the features every mind mapping software must have for free:
Smart drag & drop editor
Easy navigation system
Ability to export in many formats (e.g. JPEG, PDF, HTML, and more)
On the other hand, FreeMind lacks the collaboration feature, so you will not be able to work on the same project at once, but you still will be able to share it.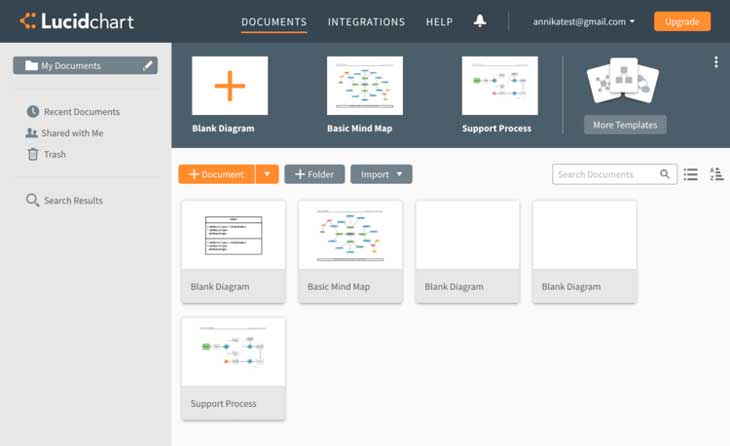 3. Lucidchart
The third tool I want to write about in my list of the best free mind mapping software is Lucidchart. While being a diagramming app, Lucidchart is also a great solution for mind mapping.
On this easy-to-use platform, you can create a lot of different data presentations, whether it is a basic flowchart or a compound technical diagram.
From its features, I want to highlight:
Free group chat and comment functionality
Reliable backup system
Flexible editor
In conclusion, Lucidchart is the best free mind mapping software when it comes to communication functionality as it has all the features needed to work effectively on a project for a team of any size. Moreover, it is web-based, so you can work from any part of the world.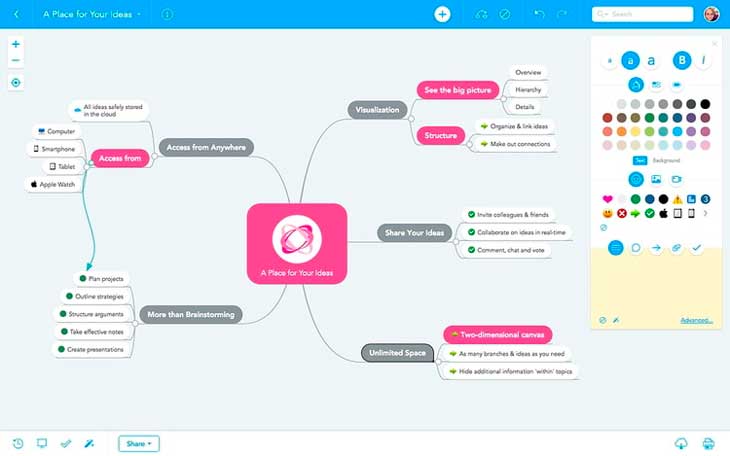 4. MindMeister
MindMeister is another best free mind mapping software that is web-based. It means that you can work from anywhere and collaborate with your team members in a real time.
Another advantage of MindMeister is its accessibility as you can use it from any device: PC, macOS, iOS, and Android.
Despite the useful features described above, there are still some you should bear in mind:
Presentation mode (transform your mind maps into slideshows, easily export them in PNG format, and embed them to your website)
History mode (keep track of all changes and restore earlier versions when needed)
All in all, MindMeister is a perfect solution for planning, note-taking, brainstorming, and meeting management.
5. GoConqr
Providing a great designing environment for visual learners, GoConqr is the best free mind mapping software in terms of aesthetics.
This web-based mind-mapping platform has a free subscription package which includes:
Simple editor
50 MB online storage
Easy content distribution
Tracking system
Beside mind maps, in GoConqr you can also create quizzes, slides, courses, flashcards, flowcharts, and notes. So, this is not just a mind mapping software but a powerful tool for learning.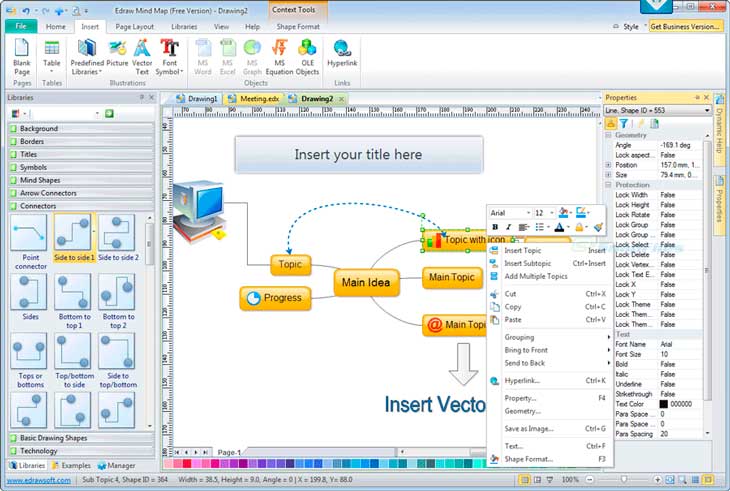 6. Edraw Mind Map
Edraw Mind Map is a completely free mind mapping software which does not have any limitations in its version as the ones I have mentioned above. Offering users a ton of different templates, Edraw Mind Map makes it easy to create a mind map or any other type of chart to develop your idea.
One of the competitive advantages of Edraw Mind Map is an ability to integrate it with other Microsoft Office programs. It is a very useful feature when it comes to sharing mind maps even with those people who have not got the software installed.
Among the other useful features, I can highlight:
Multi-page mind maps and hyperlinks support
Smart drag & drop editor
A library of ready-made mind map objects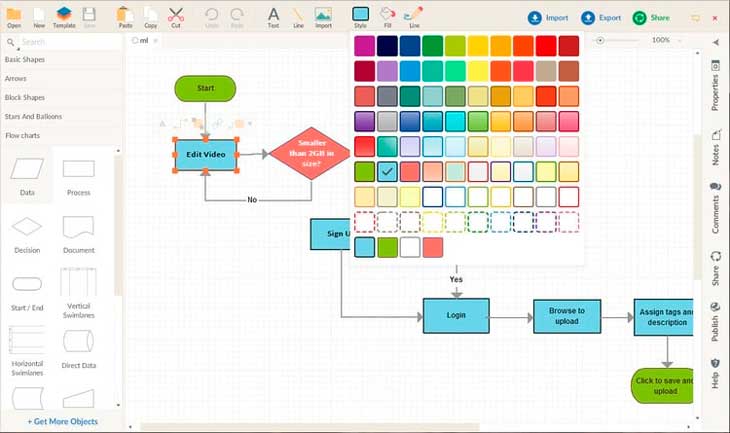 7. Creately
Although its functions pretty much limited in its free version, Creately is the next best free mind mapping software in our list.
The most valuable feature I have found in this app is that it has thousands of templates for creating a mind map, so you don't have even to think of its structure, just choose the one you like and feel free to customize it when needed. Alternatively, you still can use the editor to create beautiful mind maps on your own.
Other features:
Broad integration capabilities (i.e. Google, JIRA, Microsoft Visio, Adobe Illustrator etc.)
Accessibility on many platforms such as Windows, macOS, Linux, iOS, and Android
Powerful collaboration tools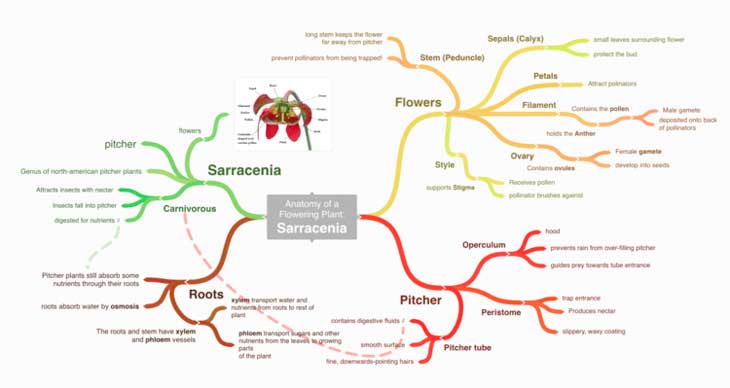 8. Coggle
The only limit you will have using this tool without payments at all is the number of mind maps you can create (up to 3). Therefore, Coogle is one of the best free mind mapping software.
The core component of Coogle is its simplicity. This software has a really intuitive interface and the editor.
From other features, you can find:
Simple collaboration feature which allows to chat with your partners and see changes on the go
Autosave
Unlimited image uploads
This is a really useful mind mapping software for beginners, and most effective in note-taking, planning, and brainstorming.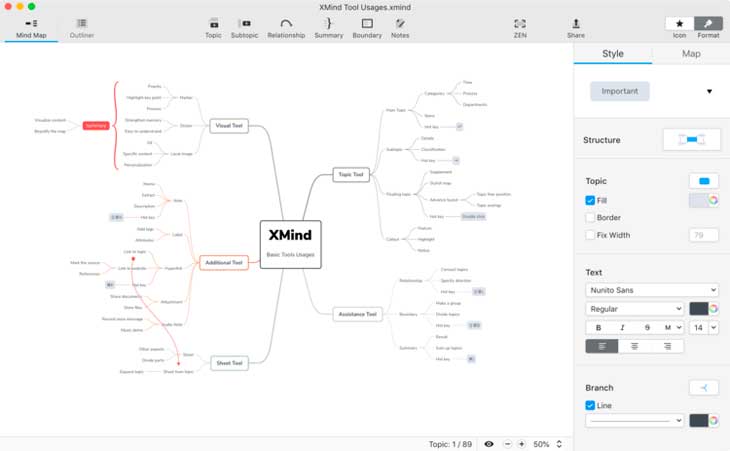 9. XMind
The ninth app in my list of the best free mind mapping software is taken by XMind.
XMind is the most professional tool I have found on the market and it is definitely the best free mind mapping software for Mac in case you use it only in personal goals.
Although you get all powerful editing functionality to create delightful mind maps, you are restricted from its awesome collaboration tools and other such as presentation mode, and the export of your mind maps is available only in PDF format.
But, there are still some amazing tools available for free as well:
Mind map structure templates
Broad customization options (it has custom fonts, themes, over 60,000 ready-made icons, and more than 100 stickers)
Simple interface
10. Mindomo
The next program of my best free mind mapping software list is Mindomo. It is a tool that turns complex information for learners, businesses, and agencies into a simple yet understandable knowledge.
The greatest feature of Mindomo that differentiate them on the market is the ability to make not only textual notes but video and audio as well. This is very useful if you want to expand on particular topics. But it is accessible only in the paid option.
Among the features available in the free version, you can find:
Simple editor
Real-time collaboration
Availability on mobile and desktop platforms
Sync mode that allows working offline
Presentation mode
Other functionalities like multiple formats export, task management, and integrations are available in the paid plan only.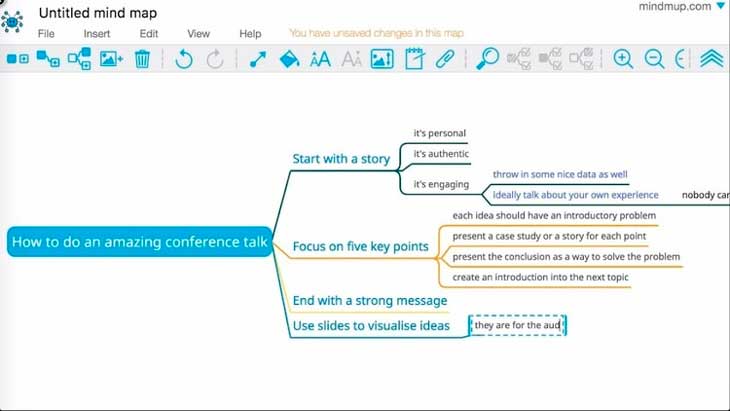 11. MindMup
Since MindMup is very useful in measuring projects' costs and their progress, I can say that this is the best free mind mapping software for marketers.
In addition to this, with MindMup you can upgrade your mind maps to the next level with its storyboard creation feature so that they will turn into a more coherent hierarchy of ideas and you will be able to put your data into a neat presentation.
From some classic mind mapping software functionality there are:
Collaboration tools
Mobile accessibility
Simple interface
Another competitive advantage I have found in MindMup is 'Productivity mode' which helps to lay out your ideas faster and keeps them organized automatically.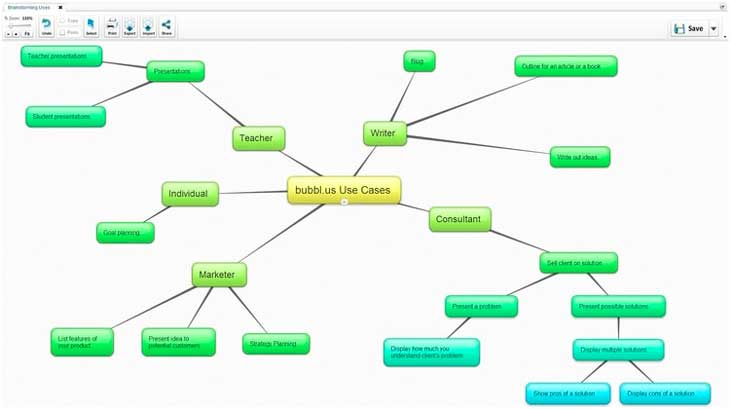 12. Bubbl.us
Bubbl.us is the best free mind mapping software when it comes to simplicity. Instead of offering a lot of excessive functionality, Bubbl.us is focused only on creating mind maps.
Besides its simplicity, Bubbl.us has a number of other useful features in its free plan:
Mind map sharing
Accessibility through all devices
Basic mind map editor
Yes, this mind mapping software has a pretty limited free version; moreover, you can create only up to 3 mind maps. But if you want to put your ideas on the list before they vanish in the most simple way, you should definitely give it a try.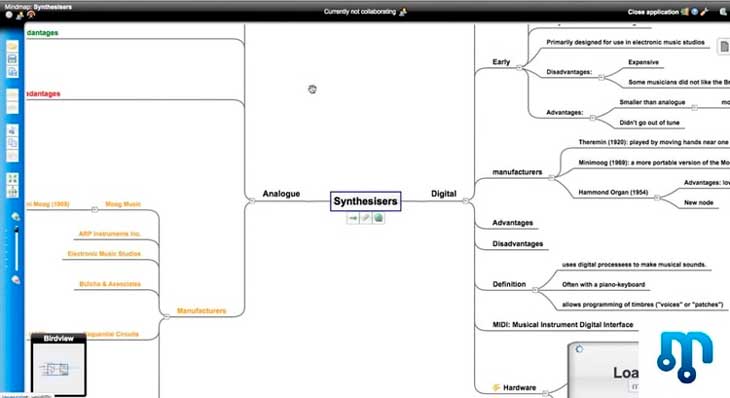 13. Mind42
Moving forward, I want to point out Mind42. This is the best free mind mapping software which can help in brainstorming ideas, creating plans, and organizing events. Unlike most of the tools mentioned above, Mind42 is completely free of charge that means you will get a fully-fledged mind mapping software without any restrictions.
While having such great benefits, this program has some disadvantages as well. For example, there is no way you can edit mind maps offline. Another downside of the app is ads. However, I understand that developers need resources to at least maintain application; therefore, this move is completely justified.
And, of course, let's mention some of their cool features:
Image insertion via a link
Unlimited mind map size
Wide import/export opportunities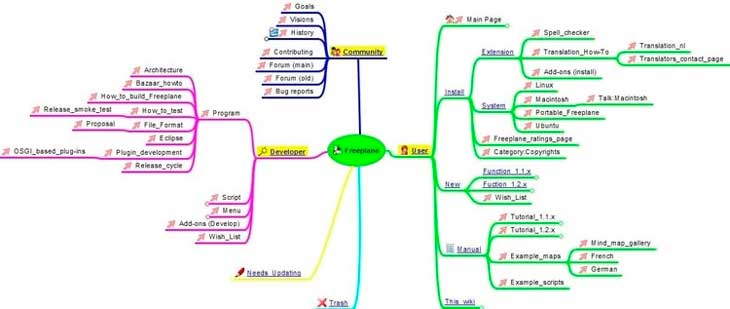 14. Freeplane
Another tool which I cannot pass by in my best free mind mapping software list is Freeplane. Freeplane is an open source mind mapping software, so it is totally free as well as Mind42.
Initially built as a knowledge management software where people can lay off their thoughts in a diagrammatic way, it is also a great free mind mapping software because all the information is presented as a mind map which includes many topics divided by branches.
To sum up, here are some nice features Freeplane has:
Advanced editor
Sharing
Simple interface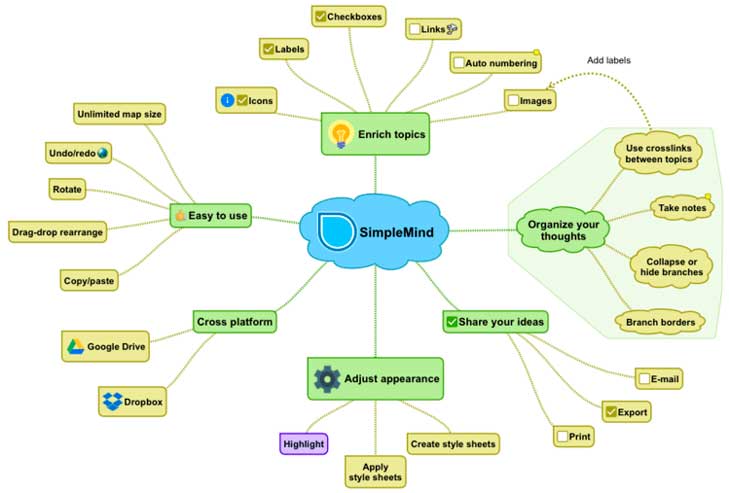 15. SimpleMind
Although the free version of SimpleMind has a lot of limitations, you still can create simple mind maps here. I would not say that this is the best free mind mapping software you can choose, but I would like to leave the choice to you.
In addition to the simple mind map editor, you will get the ability to work with your mind maps from any device.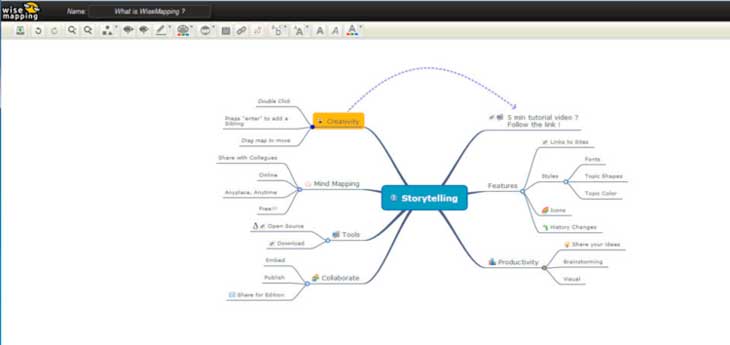 16. WiseMapping
The last best free mind mapping software I want to mention is WiseMapping. If you need to create a complex and very detailed mind map, WiseMapping may be a good choice.
The program is completely free and web-based, so you don't have to waste your time installing it on your device.
Besides of flexible editor, WiseMapping has a decent amount of useful features:
Customization tools
Ability to run it on your own servers to make sure your mind maps are in a safe place
On the other hand, it can be hard to get used to it for the beginners.
In my view, although there are paid solutions where you can get all mind mapping features without making a deep research, you still can find a free one which will be able to satisfy your needs and save a petty good amount of money using my list of the best free mind mapping software.
If you have got any useful mind mapping software I have not mentioned in my list, feel free to suggest them in the comments below. Thank you!
---