Anno is a well-known series of real-time strategy which primarily focuses on city building with an objective of building a colony from scratch and developing relationships with neighboring islands.
Today, there are seven Anno games in the series and every one of them features a completely different time period; thus, you can play not only during the past times, as in the average real-time strategy, but future as well.
On the other hand, this makes the process of choosing the best Anno game to start with way more sophisticated.
Therefore, in order to help you to find out the best Anno game with no delay, I have come up with this list of Anno games ranked from the best one to worst.
So, are you interested to know which game of the Anno series is the best?
If yes, read on to find out.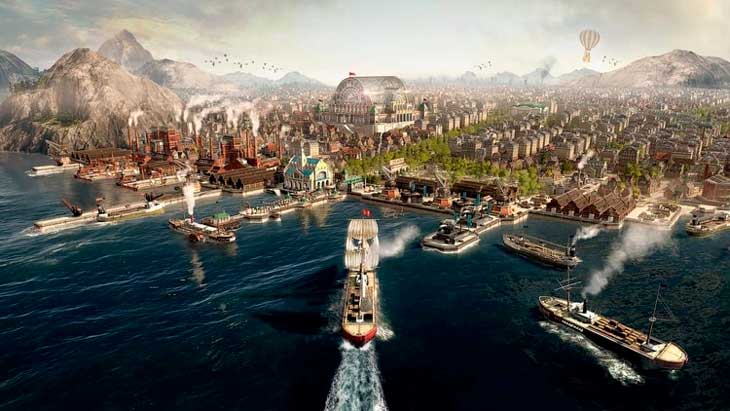 Anno 1800
The best Anno game is Anno 1800. Being released pretty much recently, it has conquered hearts of millions of new fans and restored the lost trust after Anno 2205.
This installment is pretty much similar to other fascinating Anno games, such as Anno 1404 and Anno 2070. It is just adapted to the Industrial Age in the nineteenth century with an amazing graphical interface.
A blueprint mode is yet another new and useful feature. It helps to plan out new buildings without actually spending resources on it and after you have everything needed to build it, you can do it in a single click.
Overall, Anno 1800 is the best Anno game which brought back all the exciting features that were lost in Anno 2205, polished the others, and added some new ones on the top of that. Therefore, if you would ever consider buying a title from the Anno game series, I recommend you this one.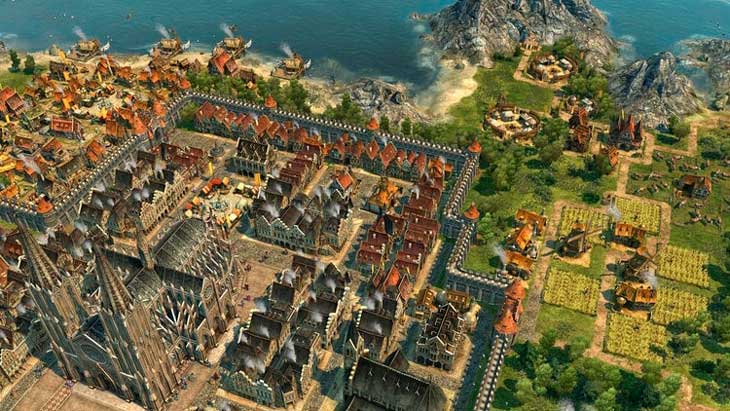 Anno 1404
The second best Anno game is Anno 1404, the fourth installment of the game that was released a decade ago.
It brings us even further than any other Anno release, to fifteenth the century, right down to the medieval and renaissance eras.
As well as any other new Anno game, it comes with expansions to some of the latter features and also adds up some new.
The most notable is graphics. On the first hand, this is a huge shift in quality from Anno 1701 and actually, after this release, I don't count the graphics as a parameter to rank Anno game series. And on the other, it just makes the game simple. Or it is just for me because I was a keen player in the 2000s.
Besides that, Anno 1404 includes new cultural distinct zones, Occident and Orient, civilization class ratios, new housing levels, and a plethora of quests comparatively with its older brothers.
All in all, Anno 1404 is one of the best Anno games which confidently keeps the second position after the most recent Anno game, and you definitely should check it out, especially if your PC doesn't meet the system requirements of Anno 1800.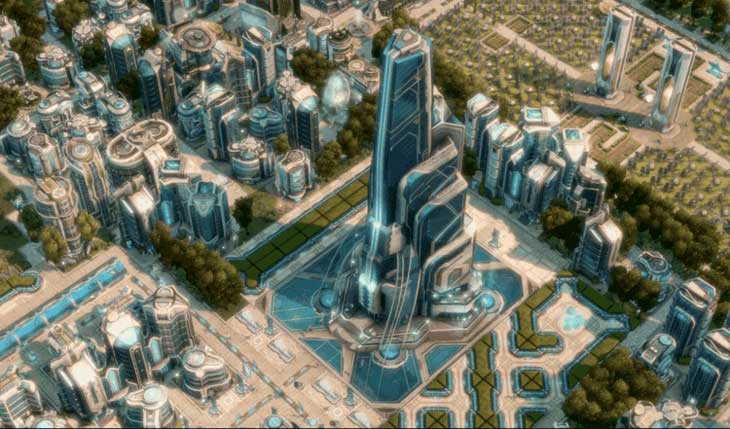 Anno 2070
The last best Anno game I would recommend you to consider buying is Anno 2070 which is set in the fictional world that was formed after global warming in 2070.
And there is almost no new functionality in the game; everything is just adapted to the futuristic environment.
Personally, I like the new political system which makes all players being under the one global government, especially voting for a World President that impacts the further development in a certain way.
In conclusion, while there are two games that I have mentioned above and personally think are better from it, you still can try to play Anno 2070. Who knows, maybe the futuristic world works better for you.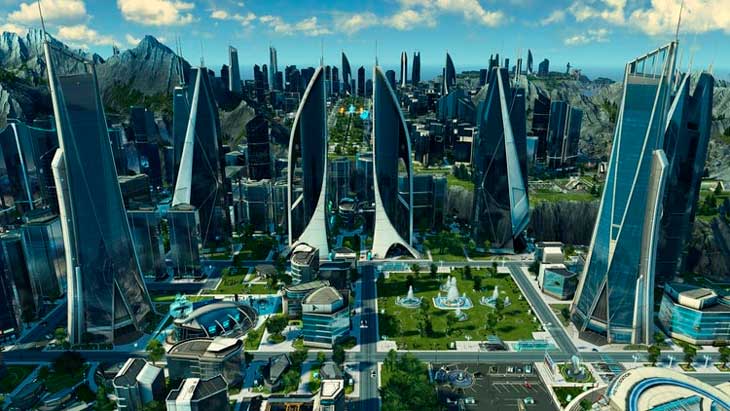 Anno 2205
Anno 2205 is another game of the Anno series that takes place in the later future.
Instead of being a colony leader, you rule a corporation and compete against others creating world-changing technologies.
This game caused the biggest disappointment among lovers of the Anno game series and I also think you shouldn't buy it because it is oversimplified. And I mean it. Anno 2205 is designed for the mass market and its gameplay is even worse than in the first three versions, I just cannot place it lower due to the unplayable graphics they have.
All you need to do is just clicking by following instructions; there is no thinking or problem solving involved. Just tap and wait. It's like a freemium browser game created to produce money.
Anno 1701
Unlike the previous game of Anno series, Anno 1503, the third one brings a little bit more of innovations which makes me put this game way ahead of its predecessors.
It takes place in the eighteenth century and adds up a few new features to the Anno game series as well as polishes some of the eldest.
Firstly, instead of proceeding with focusing on combat, Anno 1701 comes back to trade and economics as it was in Anno 1602.
Secondly, the Queen who occupies the world brings her own order and expects you to pay her a lot of money in exchange for your independence. Otherwise, you will have to fight for it.
Thirdly, Anno 1701 introduces to the series "Trader Assignments" and "Guests of Honor" that occur occasionally.
While the first one offers players to complete different types of assignments that lead to monetary rewards, the latter gives a huge bonus from random guests that might visit you. This makes the game a little bit pleasant.
Lastly, starting from the third installment of the game, a player is exposed to danger from natural disasters that can cause a lot of damage to his settlers and settlements.
To sum up, whereas Anno 1701 has corrected some limitations and brought a better graphical interface, it is still not worth buying it because there are much better Anno games available.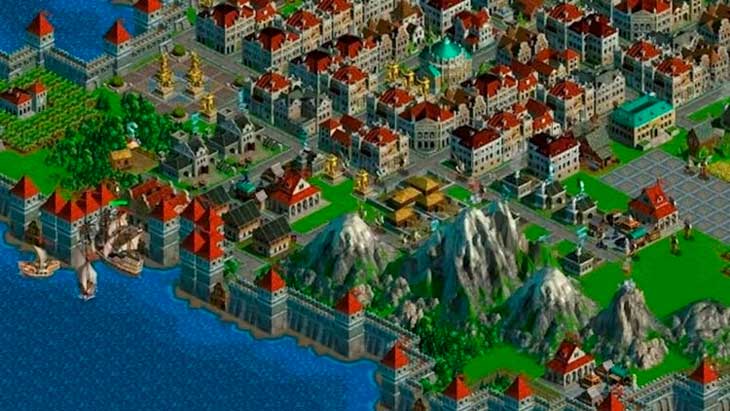 Anno 1602
While having the most primitive visual interface, Anno 1602, the first game of the series, has managed to take the sixth position on the list of best Anno games due to its gameplay.
Anno 1602 was released in 1998 and almost immediately had been acknowledged as one of the best-selling game of that year. Accordingly to statistics, by the year 2004, it has sold over 2.7 million copies worldwide.
The game is set during the early modern period of history which follows the late Middle Ages and although the main gameplay and objectives of all Anno game series is pretty much the same, I still want to dive in some of the specifics of the first installment.
Instead of developing technology to prevail over other colonies in battles, Anno 1602 focuses more on developing the inner economy. For example, rather than adjusting the better weapons to ships, you had better consider expanding their load size.
So, although I don't recommend buying and playing the next Anno game on the list including this one, it is a big pleasure for me saying "thank you" for developing such a wonderful game in 1998.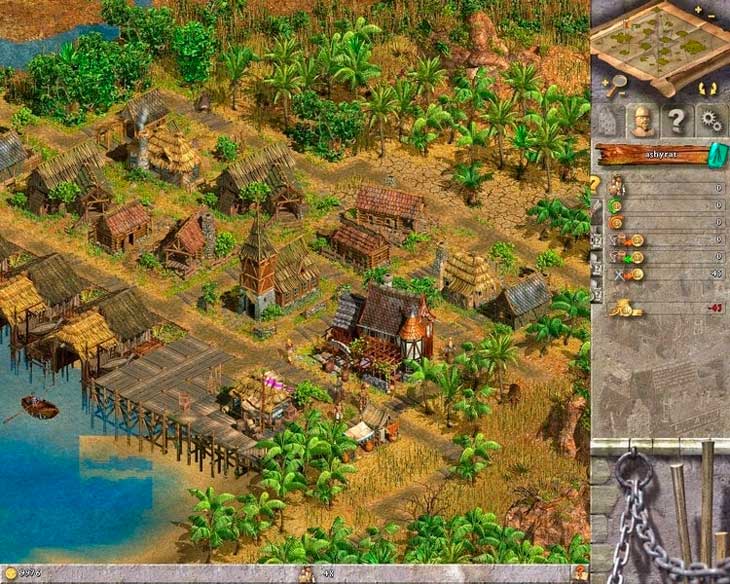 Anno 1503
Anno 1503 was released in 2002. It is the second part of the Anno series and this time it takes us to the sixteenth century.
Not bringing to the game almost anything new, it was placed on the last position by me among other best Anno games because of not making such a huge impact on the industry as its predecessor did. There are nothing revolutionary, only different civilization levels and much complex combat system.
Bringing it all together, it is fair to say that Anno 1800, Anno 1404, and Anno 2070 are the games of Anno series worth playing and among all of these three, Anno 1800 is the best.
But don't be in a rush buying it, maybe you dislike the past times and future is a better option for you, or maybe your computer doesn't meet system requirements of Anno 1800.
Everything can be true, so in the first case consider Anno 2070 and in the second one Anno 1404.
I hope my list of Anno games ranked was useful for you, and you have managed to come up with the best Anno game in the series.
Please, let me know in the comments section below if you agree or disagree with my list and also which one is the best game in Anno series for you.
Thanks for reading!
---