Fighting games are one of the most popular genres on Steam.
Yet, there are almost no articles we can use to find the best ones.
Therefore, I have created my ranked list of the best fighting games on Steam.
And although the description says that it's ranked from the best to the worst title, all of them are fantastic and really bad games are not even included here.
On the other hand, if a game is placed higher, it means that I like it more.
Let's get started.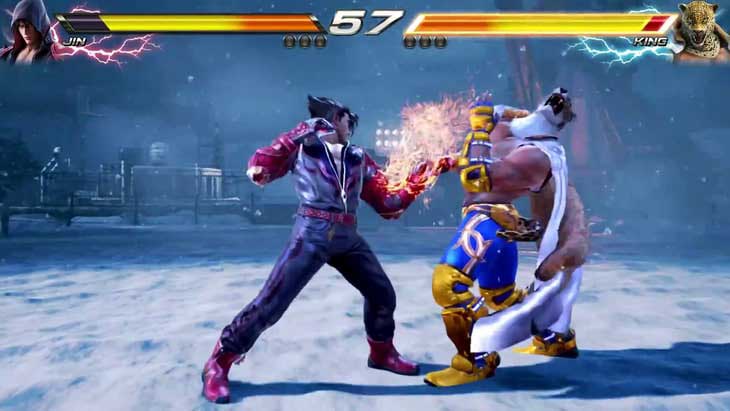 Tekken 7
Tekken 7 is the best choice you can make in relation to Steam fighting games.
Having been constantly improved over the decades, it seems to be a masterpiece.
Tekken 7, unlike many other fighting games, is very easy to pick up for beginners, but it doesn't mean that you will master everything in a month. It may even take years to become a real PRO.
When it comes to the gameplay, it is focused around 1 vs. 1 fighting with a rich combat and a big amount of combos.
Tekken 7 can be played in both: solo and multiplayer modes.
The first one can bore you with time and it is more kind of a training before participating in online tournaments as well as a way to earn points that you can spend to unlock customization items for fighters and the interface.
And although the campaign offers an interesting story, personally for me, it feels a little bit short.
On the other hand, the game has a well-developed multiplayer where you are likely to spend lots of hours. It offers many modes to play: casual, ranked, and tournaments. The latter is my favorite one.
And today, I think that multiplayer is the most crucial part of any fighting game. It is no longer interesting to play solo, and I do this just in case I don't have an internet connection or I need to train some combos.
All in all, Tekken 7 is the best fighting game on Steam, so if you haven't played it yet, go for it.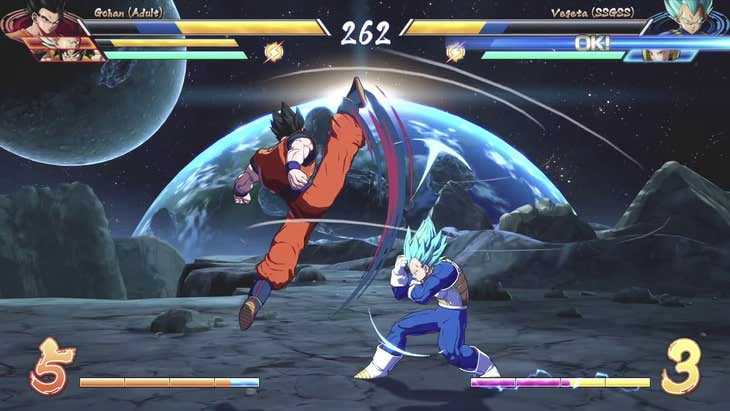 Dragon Ball FighterZ
Dragon Ball FighterZ is the second best Steam fighting game.
It is based on the eponymous anime that has been airing since 1986.
The game artists did a great job conveying the look of the show; thus, if you are a fan of the series, you will enjoy it a lot.
But even if you have never seen Dragon Ball on the TV, Dragon Ball FighterZ is not only a great game for lovers of the franchise but for people like you and me. Personally, I don't like watching TV series at all, but this game even made me interested in the show.
Another great news for newcomers is that Dragon Ball FighterZ is very easy to learn and you won't have to press all of the buttons pretending that you know how to play. This also applies to the awesome-looking and unpredictable combos or special attacks. Therefore, you will be able to enjoy the beauty of its gameplay at the very beginning.
However, you need to think strategically in order to win, especially in online battles.
All in all, I think it has a perfect balance that doesn't scare away beginners and gives an area for improvement to those who want to spend long hours honing their skill and become the best fighters.
Let's talk about the gameplay.
Dragon Ball FigherZ is a 3 vs. 3 fighting that can be played either solo or online. And although I have mentioned that there are 3 fighters on each side, it doesn't mean you will have teammates; you just control 3 different characters you choose during the fight.
The solo mode seems to have a cool story with interesting cut scenes. But when it comes to the gameplay, it is more kind of slaying stupid creatures and fighting long-awaited bosses at the end.
So, if you prefer to make the game more challenging, you'd better go with the Arcade mode where you will be able to instantly fight with other characters and the difficulty will be increasing along the way.
The online mode is my favorite part of the game.
Considering almost 300 hours of playing Dragon Ball FigherZ, I spent only about 40-50 on the solo mode. And this is not surprising because the multiplayer is very interesting and always challenging since the game finds players based on your rank. Besides that, it features a leaderboard which brings even more competition to the game.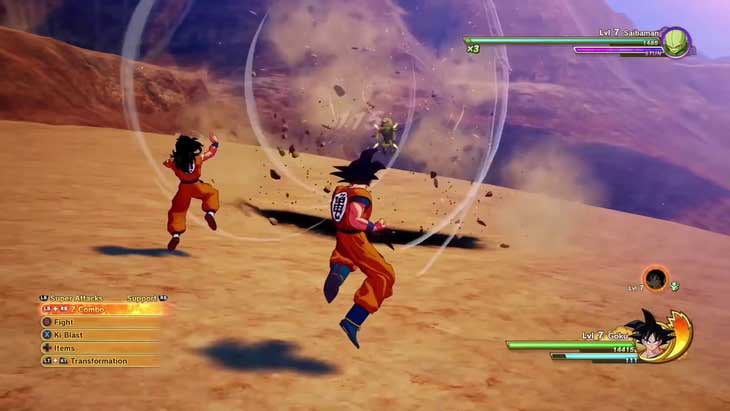 Dragon Ball Z: Kakarot
Right after its predecessor goes Dragon Ball Z: Kakarot.
Unlike previous games, Dragon Ball Z: Kakarot is a Steam fighting game in a third-person RPG style.
And although its third-person perspective is more attractive to me (simply because I feel myself more immersed into the gameplay), I have placed it below Dragon Ball FighterZ because it seems that the game is made strictly for fans.
Dragon Ball Z: Kakarot features only a single player mode which shows the well-known Dragon Ball Z's story full of fun and drama in a way that it never has been shown before, opening new insights about the DBZ universe for the true fans. However, if you haven't seen the TV series, you are likely to not get it at all because developers got rid of explanations on purpose, focusing only on the Dragon Ball Z enthusiasts.
All in all, it doesn't mean that the game is bad. It won the third place on the list of the best fighting games on Steam. And if you just want to kick some asses in a third-person open-world RPG game in the anime style, make sure to check it out.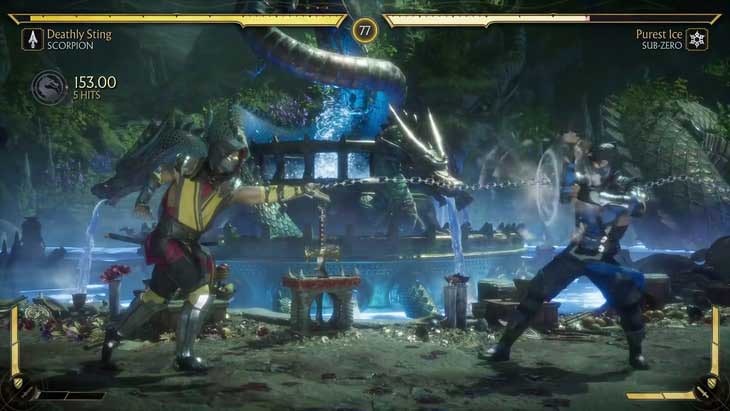 Mortal Kombat 11
Still haven't found your game? Maybe anime fighters just aren't for you.
If so, let me introduce you to Mortal Kombat 11, a classic of the genre.
This video game series was developed in 1992 and over all of the past years it has been constantly improved.
In my opinion, Mortal Kombat 11 has finally reached the perfect state which satisfies the majority of its player base.
First of all, it is worth mentioning that the game has a very comprehensive tutorial. Now, you don't have to clumsily press on all buttons of your keyboard or controller and pretend that you know what you're doing. Even if you still think it's a great idea, this trick will not help you in the latest edition of Mortal Kombat since it focuses more on tactics rather than speed.
When it comes to the game modes, as well as almost every title on this list of the best fighting games on Steam, Mortal Kombat 11 has plenty of them. Some of these modes are classic while others bring us an experience no other game can provide.
And to make it simple, let's break them down into two categories: single player and multiplayer.
Even though people tend to love a multiplayer mode in fighting games more than a single player, it's not the case with Mortal Kombat 11. Here, it is equally good, if not better. Immersive story, interesting challenges, tournaments, world exploration, and of course, casual fights are available to play in solo.
When it comes to the multiplayer, you can enjoy casual local or online fights with your friends as well as with random strangers, compete in tournaments, and climb the ranking ladder.
I don't normally write about sound design in my reviews, but this part of the game in Mortal Kombat 11 deserves special attention. Let's be honest, fighting with great sound effects and awesome voice overs is a lot better.
Aside from that, Mortal Kombat 11 is a fighting game on Steam with the most realistic graphics.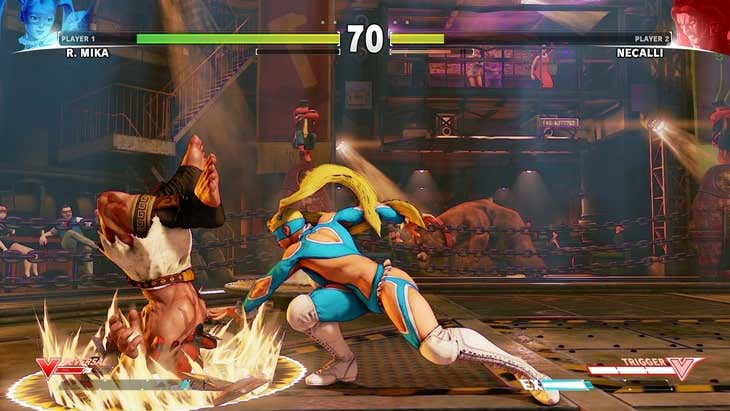 Street Fighter V
Alright, let's come back to the anime.
And by the way, don't get me wrong here. I don't add anime-style fighting games just because I love the genre. It's because Japan is the homeland of fighting games and anime is a more traditional way of expression for them in video games.
Anyways, our next best fighting game on Steam is Street Fighter V.
Street Fighter V is well-known for its disastrous release: the game was lacking in content and it had so many bugs no other Capcom game had had before.
Nevertheless, after two years of hard work, the game was finally polished and it has managed to restore the trust of its fans so that today Street Fighter V is one of the most-played fighting games on Steam.
This is a fast-paced game where the speed of your decisions and ability to read opponents are the key to victory.
Compared to other fighting games, Street Fighter V is even easier to learn. However, it doesn't mean that the combat system of the game is pretty much straightforward; on the contrary, it has a lot of cool special abilities, attacks, and combos that will take some time to master.
Apart from the standard modes that every modern fighting video game has, such as casual and ranked online matches, couch multiplayer, practice, and single player fights, Street Fighter V features many interesting play styles.
The game has a great story mode that will introduce you to the Street Fighter universe as well as its characters. And even though I wish there were slightly more action than narrative, you will definitely enjoy it if you love digging deep into the game lore.
The second and, in my opinion, the most favored mode is Arcade. Here, you go through the historic ladders of the whole Street Fighter franchise fighting random opponents and final bosses in order to unveil hidden parts of the Street Fighter story.
Survival mode is quite similar to the Arcade, but there are many more enemies and you have a limited amount of resources to defeat all of them in a row.
Another great mode is Extra Battle. It is even more difficult than the Survival because you fight with powered up versions of existing characters. Nevertheless, the exclusive in-game rewards you get a chance to receive are totally worth the challenge.
And the last but not least way to play the game is Team Battle - a highly customizable mode where teams with up to 5 players compete against each other locally in a series of 1 vs. 1 elimination matches. The team that eliminates all of their opponents or wins more matches, based on the chosen condition, carries the victory. Sadly that it's not available online, I bet it would be the best part of the game.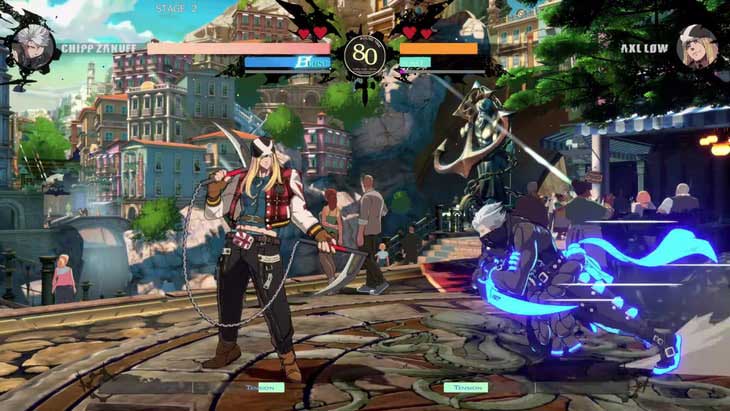 GUILTY GEAR STRIVE
GUILTY GEAR STRIVE is the most recent fighting game on the list.
With cutting-edge technologies, such as outstanding graphics, smooth rollback netcode, and innovative gameplay mechanics, it firmly takes a place on the list of the best fighting games on Steam in 2022.
This is another great beginner-friendly fighting game where you can gradually learn to fight without getting bored or irritated, even if it's your first game in the genre. Yet, there are so many creative play-styles, combos, moves, and special attacks that even PROs will enjoy honing their skills and fighting the toughest opponents.
One of the biggest advantages of GUILTY GEAR STRIVE is the variety of modes.
My personal favorite, and probably the most popular, mode in the game is Towers. This is an alternative to ranked battles that's divided by 10 floors which perfectly matches you with players of the same level, except for the last floor - here you can meet real psychos. The best part of this mode is that if you're really good, you don't have to play many boring battles to be properly ranked and start fighting against worthy opponents, it sends you into the right division almost right away.
Second to the ranked mode, come Arcade and Survival. They are almost identical to the similarly titled modes in Street Fighter V: the former features a series of battles with an immersive story unique for each character, while in the latter you need to defeat as many opponents as you can with a limited amount of HP.
Cinematic Story is a pleasure for those who love watching anime and want to learn the story of the game in depth.
The Tutorial mode here deserves a special mention. Usually, they are boring and we just want to pass through them, but it's not the case with GUILTY GEAR STRIVE. It offers many engaging and informative ways to practice your skills, and you notice real results after completing them.
And, of course, the game also has other casual modes, such as local, online, and vs. CPU.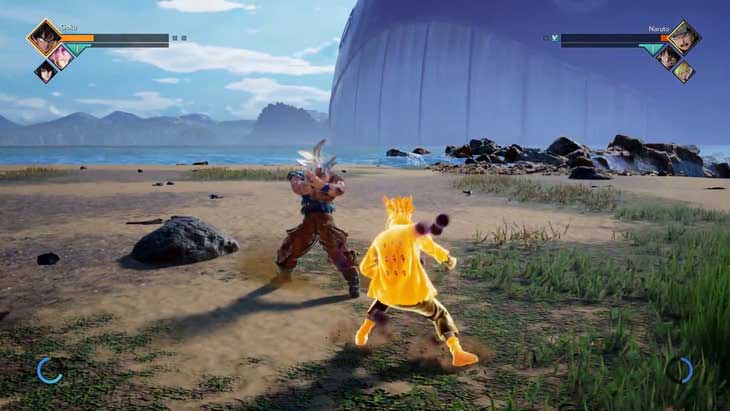 JUMP FORCE
Bleach, Naruto, Dragon Ball, Hunter x Hunter, One Piece and many other popular anime shows merged together into a legendary fighting game for true fans of the anime.
And I want to emphasize once again that JUMP FORCE is a game only for players who are acquainted with the anime genre; otherwise, it might seem a little bit boring and you may not understand some of its parts.
The game starts with an exciting story mode where you create your own hero, customize him, develop his skills and abilities, and save the world along with the characters of the most popular anime shows on the Earth. Later, you will be able to use your character in online mode too, so be careful with his growth.
The fighting mechanics of JUMP FORCE are quite similar to the ones in Dragon Ball FighterZ. It features 3 vs. 3 battles, but instead of the 2.5D, here we have a fully-fledged 3D game from a third-person perspective.
Another major difference in game mechanics of these games is that characters in JUMP FORCE have a joint health bar and play more of a supportive role to create amazing combos and special attacks, but if you hope to switch characters in order to utilize a hero with more health points, it won't help.
When it comes to the variety of modes, this is probably the most disappointing part of the game.
Except for the main story, JUMP FORCE only has casual battles (local, online, and vs. AI) and the ranked mode.
On the other hand, its multiplayer is really enjoyable and you'll have many hours of fun after finishing the story, especially if you're looking for a fighting game to play with your friends.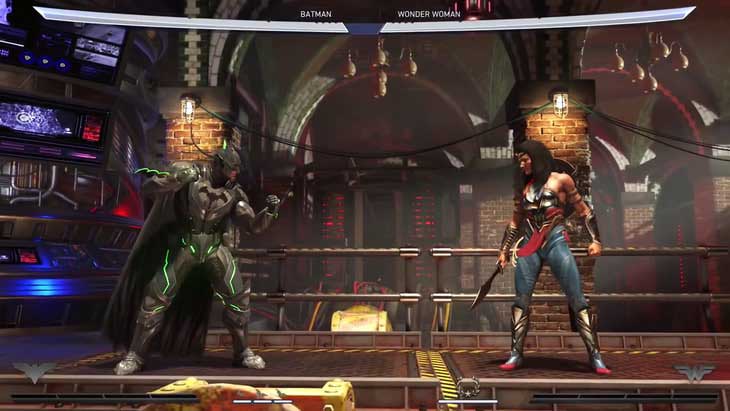 Injustice 2
Do you love superheroes? Then, this title is exactly for you.
Made by NetherRealm Studios, the company behind Mortal Kombat games, Injustice 2 is well-known as the best superhero fighting game on Steam.
The main focus of the game is directed towards the single player content. Nevertheless, even if you have a competitive spirit, there's a place for you as well since Injustice 2 has plenty of modes.
So, let's take a look at each one of them.
This game has a tutorial, but it's unlikely to come in handy as there is an easy to pick up combat system that lets you experience the full beauty of battles straight away.
Injustice 2 continues the story of its predecessor, Injustice: Gods Among Us, and now Batman must come together with Superman in order to save the world.
Sounds simple, but in reality, there are 12 big chapters with outstanding cinematics that immerse you into the story no different from the iconic DC movies and your own choices can change the course of the game.
Secondly, Injustice 2 introduces a mode with endless replayability where you will spend thousands of hours - Multiverse. It features unique play-styles, interesting missions and challenges, powerful bosses, alternative stories, and constantly refreshing special events. Going through the Multiverse, rewards you with exclusive in-game gear and items.
Oh yeah, I almost forgot. In Injustice 2, there is the Gear System that allows you to customize characters with in-game items, acquire new abilities and stats.
There are many ways to get the gear, but the most effective one is through lootboxes. In general, I don't like the concept of lootboxes, especially in Free to Play games, but in Injustice 2, I think, it fits perfectly.
Don't get me wrong here, you don't need to spend real money to get them. All of these boxes are easy to farm in game, and I find opening them with hopes for epic gear very exciting.
Moreover, none of these in-game items work in the multiplayer mode, so you don't have to worry that someone who has been playing the game for years will beat you up in a matter of seconds.
Lots of modes, isn't it? And that's not even a half of what you can find in the game. I don't want to stop on the obvious ones like casual or ranked online, couch and solo fights, but there are two more unique modes I wanted to point out: Tournament and King of the Hill.
The first offers customizable local tournaments with a vast variety of settings, such as randomized gear, lowered health bars, environmental interactions, and so on.
King of the Hill is the best mode to play with multiple friends at the same time. It's a set of 1 vs. 1 battles where the defeated players change places with the next one in a queue. Meanwhile, being a spectator, allows you to perform reactions and rate participants in the arena.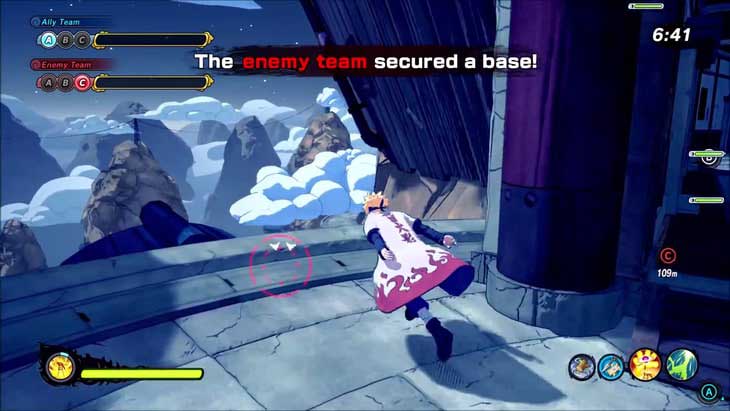 NARUTO TO BORUTO: SHINOBI STRIKER
NARUTO TO BORUTO: SHINOBI STRIKER is the latest and the most polished Naruto game in the series.
As a kid, I always wanted to become a part of the Naruto universe, and this game finally makes my dream come true.
New graphic style that transfers the beauty from the original anime and a dynamic third-person view makes you fully immersed into the world of shinobi.
The game begins from the character creation where you have almost endless capabilities to create a unique appearance, and later, you will be able to expand the skill set of your character with favorite abilities from the anime.
When it comes to the combat system, it's very easy to learn. At the same time, this doesn't mean that fights are going to be boring and monotonous; on the contrary, numerous jutsu, moves, and special combos will keep you engaged for a long time. On top of that, it is fast-paced, which makes you feel like a real ninja, and even if you're sluggish, the game will quickly improve your reaction.
NARUTO TO BORUTO: SHINOBI STRIKER focuses primarily on the multiplayer gameplay. Although there is a Story mode, it's hard to call it a story, rather missions that you need to complete in solo or co-op. They help to get accustomed with game mechanics and develop your character before jumping into serious fights in the Multiplayer mode.
There, as usually, you can choose between ranked and casual matchmaking.
The main gameplay of the Multiplayer mode consists of 2 teams with 4 players each fighting one another and pursuing various objectives: eliminating enemies, attacking or defending bosses, capturing flags, and conquering bases.
Also, there's the Free-for-All mode where 6 players fight for themselves.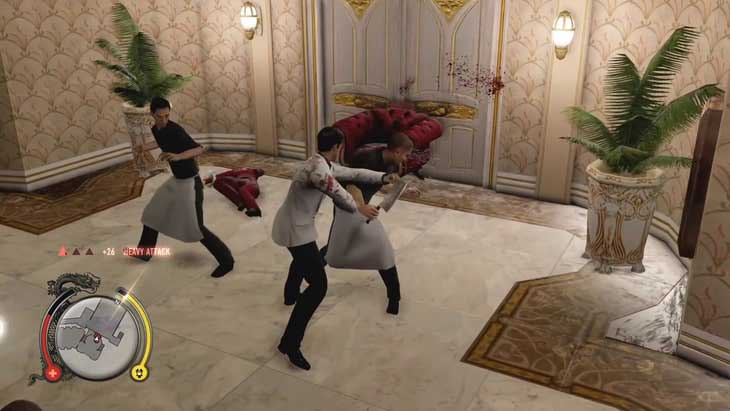 Sleeping Dogs: Definitive Edition
If none of the mentioned games works for you, I want to offer something unique - Sleeping Dogs: Definitive Edition.
This is a remastered version of a legendary open-world action adventure game where you play as an undercover cop who must destroy the most powerful criminal organization of Hong Kong.
In short, it's like GTA, but with the focus on brutal hand-to-hand combat, although you will use other types of weapons as well.
Apart from the excellent story, there are plenty of activities you can do in Sleeping Dogs: complete side missions, gather collectibles, participate in street races, practice martial arts, and even sing in karaoke.
And, of course, as any other respected open-world game, it has a lively city full of people and traffic which perfectly conveys the atmosphere of busy Hong Kong.
That's all of the best fighting games on Steam I have for you today.
I hope you've enjoyed going through this article and now you know which fighting game you should buy on Steam.
Thanks for reading and have a great day!
---